Description
In the heart of the mattress
A.  Cover
The cover is made from a signature performance fabric in silver fiber helps keep bacteria away while creating a protected environment to give you peace of mind while you sleep. The mattress cover is easily removable and machine-washable.
B.  Comfort level
Waterlattex layer (2") offers elastic support and recovery with increased flexibility. A layer in Memoform (2") for a cozy, yet supportive comfort.
C.  Base layer
The layer in Elioform (6'') is designed to ensure ideal support for your back. Thanks to its composition, it provides a support without causing compression of the spine.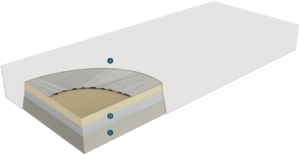 Discover the Materials
Silver fiber
The silver fiber coating is a material with numerous beneficial properties and its use in the production of a fabric guarantees exceptional antibacterial, thermal and breathable characteristics.
Memoform
Memoform is the most anatomical of all the materials we use in production and is designed to react to the weight of the body and to adapt perfectly to any type of build. This characteristic generates a pleasant feeling of ease and lightness while a person is asleep and helps the spine relax
3D Fabric
The 3D fabric cover, characterized by a tridimensional aspect, ensures a high level of air recycling and breathability, thus generating a feeling of superior well-being.
Waterlattex
Waterlattex offers elastic support and recovery with increased flexibility. The internal structure features an open-cell construction that increases airflow for a more enhanced sleep that will leave you feeling comfortable throughout the night.