Description
In the heart of the mattress
A. Cover
The cover in Viscose with anti-bacterial, anti-dust mite and antifungal treatment is soft and breathable, and makes the mattress soft and silky to the touch. It also has a greater capacity to dissipate excess moisture, favoring breathability. Active ingredient: Pyrithione zinc
B. Padding
The padding in Memosoft and Super Soft fiber provides extra comfort all night long.
C. Comfort level
The layer in Aquabreeze (5"), a flexible and incredibly comfortable material, thanks to its open-cell structure and remarkable elasticity, favours breathability and provides a soft, cozy and cool comfort all through the night.
D. Base layer
The layer in Elioform (5") features a high-density foam structure, which provides a firmer support to the spine.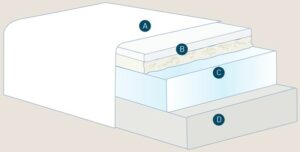 Discover the Material
Natural Viscose
Made from cellulose, viscose is a soft high-tech fiber with a silky texture, very pleasant to the touch. It has an excellent ability to dissipate moisture, encouraging breathability in mattresses and pillows.
Magnifoam
This foam has a high-density micro-cellular structure. It offers optimal support, elasticity and breathability. Thanks to its different molecular composition, it is available in two versions: Magnifoam Eliosoft, which is softer, and Magnifoam Elioform, which is firmer, to meet the need of every customer when it comes to quality of sleep.
Super Soft Fiber
The Super Soft Fiber padding presents exceptional qualities of softness and breathability. Its composition offers a feeling of exceptional well-being and improves the perception of comfort during sleep. This fiber guarantees a delicate and enveloping support to the whole body, as if it were being gently cuddled.
Aquabreeze
Aquabreeze is an innovative high-density, water-based foam that is incredibly flexible. It is the best quality material that recently became available on the market. Its open-cell structure allows the air to circulate with ease, for an optimal dispersion of body heat. Aquabreeze allows the mattress to remain flexible and extremely comfortable, preserving these characteristics over time. Magniflex technology: always at your service.
Memosoft
Memosoft is an anatomical and cozy material. It soothes the body by providing maximum comfort and softness. Coupled with layers in Memoform, Eliosoft or Elioform, it offers an even more delicate support. Indulge yourself in a sleeping experience unlike any other.