Description
In the heart of the mattress
A. Cover
The cover in Magniflex Style is removable and machine-washable.
B. Level of comfort and Base layer
The special layers in Eliosoft (2") and Elioform (8"), both with Stretch design, gently 'stretch out' your back towards the opposite ends of the mattress, reducing vertebral compression and giving a relaxing effect.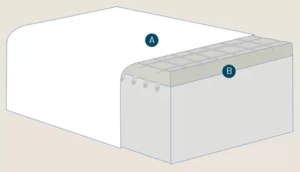 Magnifoam
This foam has a high-density micro-cellular structure. It offers optimal support, elasticity and breathability. Thanks to its different molecular composition, it is available in two versions: Magnifoam Eliosoft, which is softer, and Magnifoam Elioform, which is firmer, to meet the need of every customer when it comes to quality of sleep.