Description
In the heart of the mattress
A. Cover
The organic cotton cover, which is removable and easy to dry-clean, is cool and soft to the touch and guarantees maximum breathability. The special 3D band around the perimeter ensures greater breathability, resulting in a fresh night's sleep.
B. Padding
The Geomemory foam adapts to the shape of the body in the most natural way. The super soft fiber offers added softness and comfort with great breathability.
C. Comfort level
The Dual Core technology makes it possible to experience 2 different comfort levels by simply flipping the cores of the mattress. The "Super Soft" side offers a cozy and plush comfort, due to its layer in Mallow foam (1") and Geomemory (2") enriched with extracts of Aloe Vera, while the "Medium Soft" side offers an anatomical yet cozy support for the body, due to the layer in Ecogreen.
D. Base layer
The middle layer in Ecogreen (6") is enriched with essential oils and offers balanced support to your back. Due to its composition, it ensures the perfect alignment of the shoulders, back and limbs.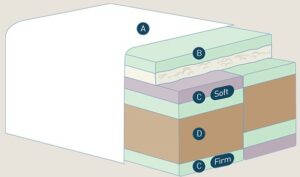 Discover the Material
Organic cotton
Organic cotton is always fresh and pleasant to the touch and guarantees maximum breathability. It features the prestigious GOTS certification issued by the institute for ethical and environmental certification, which attests the naturalness of the materials used in respect of man and the environment.
Ecogreen
Ecogreen is a flexible and orthopedic material. It contributes to the correct alignment of the shoulders, back and limbs. Its composition, based on water and essential oils, promotes airflow and keeps the mattress cool and dry. Your body will thank you for the sensation of wellness this material provides.
Geomemory
Geomemory is an anatomical material enriched with extracts of Aloe Vera or Soy. It adapts to the shape of the body with supreme naturalness and provides independent support to every part of it. Because your body is unique and deserves a special treatment.
Mallow foam
Mallow has anti-inflammatory, calming and soothing properties. Magniflex's unique Mallow foam is a formulation that enhances the effects of the mallow plant, creating a source of well-being for the nervous system. The foam layers with mallow extracts provides a soft, comfortable and relaxing support. The ultimate definition of comfort at your fingertips.
Super Soft Fiber
The Super Soft Fiber padding presents exceptional qualities of softness and breathability. Its composition offers a feeling of exceptional well-being and improves the perception of comfort during sleep. This fiber guarantees a delicate and enveloping support to the whole body, as if it were being gently cuddled.